| | |
| --- | --- |
| The Pacific War Online Encyclopedia | |
---
---
graduate
| | |
| --- | --- |
| | ONI 222 |
Tonnage

32,600 tons standard displacement


Dimensions

624' by 97'4" by 31'4"
190.2m by 29.67m by 9.55m


Maximum speed

21 knots

Complement

1080
1 catapult
3 seaplanes

Armament

4x2 16"/45 Mark 1 guns
12x1 5"/51 guns
8x1 5"/25 AA guns

About 8696 tons or 27% of displacement:


13.5" (343mm) belt tapering to 8" (203mm) below the waterline

1.75" STS + 1.75" NS = 3.0" (44mm STS + 44mm NS = 76mm) armor deck

4.5" STS + 1.75" MS = 5.5" (114mm STS + 44mm MS = 158mm) over steering spaces

1" STS + 0.5" MS =1.3" (25mm STS + 13mm MS = 33mm) splinter deck

13" (330mm) bulkheads tapering to 8" (203mm) below waterline

18"/7"STS/10"/9" (457mm/178mm STS/254mm/229mm) turret front/roof/side/rear


13" (330mm) barbettes

Splinter protection for 5"/25 guns

16" (406mm) conning tower

17'3" (5.3m) underwater protection consisting an outer void compartment, two liquid compartments, and an inner void compartment with a holding bulkhead. This was designed to withstand a 400 lb (181 kg) explosion.

Machinery

4-shaft turbo-electric drive (28,900 shp)
8 Babcock & Wilcox boilers


Bunkerage

1900 tons fuel oil

Range

8000 nautical miles (14,800 km) at 10 knots
Modifications


Maryland was armed with 4x4 1.1"/75 AA guns by 1941-12. In 1942 she was refit with 16 20mm Oerlikon AA guns and SC and FC radar. By 1943-2 her light antiaircraft was 6x4 1.1" and 48 20mm guns. In 1943-11 she landed two 5"/25 guns, 8 20mm guns, and all her 1.1" guns in return for 6x4, 4x2 40mm Bofors AA guns. In early 1944 the twin 40mm were replaced with quadruples and a quad 20mm gun was added. Following a kamikaze hit on 1944-11-29, she received a final upgrade, replacing her 5"/51 guns with 8x2 5"/38 dual-purpose guns.

Colorado was under refit in 1941-12 and received improved torpedo bulges, 4x4 1.1" guns, 14x1 20mm guns, and SC and FC radar. By 1942-11 she had 22 20mm guns. In 1943-11 this was increased to 42 20mm guns. In early 1944 the twin 40mm were replaced with quadruples and a quad 20mm gun was added.


West Virginia was extensively rebuilt following her salvage in 1944. This included rebulging and the addition of 3" (76mm) of horizontal armor over the magazines and 2" (51mm) over the machinery spaces. The secondary armament was 8x2 5"/38 guns and light antiaircraft was 10x4 40mm guns and 40 20mm guns. SC and FC radar were fitted. The 20mm armament was eventually increased to 1x2, 1x4, and 58x1 20mm guns.

The Colorados were the fifth and last of the "standard battleship" classes. They were the most modern battleships in the United States Fleet at the start of the Pacific War, save for the North Carolina, which was still shaking down in the Atlantic. Though Colorado had the lowest hull number and was thus the class namesake, Maryland was the first ship of the class actually laid down and completed, in 1921, just before the naval disarmament treaties imposed a "battleship holiday." Colorado and West Virginia were completed in return for Japanese retention of Mutsu, while a fourth sister ship, Washington, was canceled when 76% complete and the hull was expended as a target ship in 1924.

The Colorados closely resembled the previous Tennessee class, except for their 16" (406mm) main armament. They had excellent subdivision, due to their use of turbo-electric drive, and proved reliable in service. Ironically, because they were the most modern ships in the fleet, they were never extensively modernized between the wars. This left them more vulnerable to air attack than the older ships, because they never received additional deck armor. Furthermore, because of the pressing need for battleships following the Pearl Harbor catastrophe, only West Virginia had its horizontal protection strengthened during the war.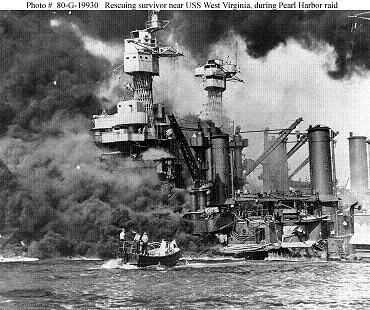 West Virginia was sunk by at least five torpedo hits at Pearl Harbor, while Maryland took two bomb hits and was jammed against her moorings when Oklahoma capsized alongside her. Maryland was repaired within a few weeks, but West Virginia took two years to raise and repair, though this also provided the opportunity for extensive modernization. Colorado herself was undergoing refit at Bremerton and avoided the disaster.
The modernization of West Virginia included an all-dual-purpose secondary battery and modern fire control. A measure of the improvement in fire control is that West Virginia straddled with her first salvo at the Battle of Surigao Strait.

Photo Gallery
References
Friedman (1985)
Whitley (1998)

---