| | |
| --- | --- |
| The Pacific War Online Encyclopedia | |
---
---
graduate
Yamauchi Masafumi (1891-1944)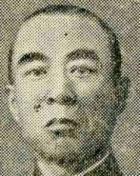 Valka.cz. Fair use may apply.

Yamauchi was a former military attaché to the United States who commanded 15 Division in China. His division assisted with road building in Thailand before arriving in Burma to join 15 Army for the U-Go offensive in March 1944. Yamauchi was accused of moving too slowly along the Kohima-Imphal road out of cowardice; in fact, his division lacked equipment, was under strength, and had no antitank weapons and Yamauchi himself was suffering from tuberculosis. His division was thereafter effectively commanded by the 15 Army chief of staff. Yamauchi was formally relieved due to ill health on 23 June 1944.
Yamaguchi was the only Japanese Army officer to graduate from the U.S. Army staff school at Fort Leavenworth, and he had acquired an undisguised taste for Western life during his stint in Washington. This extended to insisting on having wheat bread served with meals and having a Western-style lavatory transported with his headquarters during U-Go. This probably did not help his relations with Mutaguchi. An intellectual officer, Yamauchi is described by Hastings (2007) as "a frail, gentle soul", and Roberts (2011) records that he "consoled himself writing haiku poetry" (Allen 1984):

The hills of Arakan
I have crossed.
My journey to the next world.

His dying assessment of the war was "The whole thing's so silly..."

Service record
| | | |
| --- | --- | --- |
| 1891 | | Born |
| 1933 | Colonel | Instructor, War College |
| 1934 | | Tour of Philippines |
| 1935 | | Inispectorate-General of Military Training |
| 1936 | | Headquarters, Taiwan Army District |
| 1937 | | Staff, 5 Army, China |
| 1938 | | Military attaché, United States |
| 1939 | | General Staff |
| 1940 | Major general | Commander, Infantry Group, 36 Division |
| 1940-12-2 | | Chief of staff, 12 Army |
| 1941-10-15 | | Commander, 1 Independent Garrison Unit |
| 1942-6 | Lieutenant general | Commander, 15 Division, China-Burma |
| 1944-6-23 | | General Staff |
| 1944 | | Dies of illness |
References
Generals.dk (accessed 2008-7-19)
---