| | |
| --- | --- |
| The Pacific War Online Encyclopedia | |
---
---
graduate
Ushiroku Jun (1884-1973)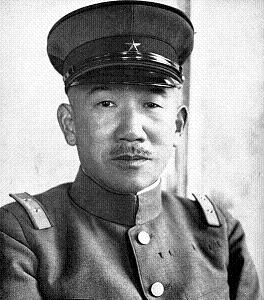 Japanese Army. Via Wikipedia Commons

Ushiroku Jun was commissioned in the infantry in 1905 and served with the Siberian Expedition on 1919. He filled numerous staff assignments thereafter. In September 1941, as chief of staff of China Expeditionary Army, he argued for an offensive against Chungking rather than war against Britain and the United States.

By February 1944, he was deputy Army Chief of Staff. He was severely criticized by fellow officers for suggesting suicide tactics against tanks due to the shortage of effective antitank weapons.

Ushiroku commanded Japanese forces at Saipan but escaped back to Japan before the island fell. In disgrace for ordering suicide attacks by his men, he was transferred to Manchuria in July 1944 to take command of 3 Area Army at Mukden.

When the Russians invaded in 9 August 1945, Ushiroku ignored orders to retreat and launched a counterattack to protect the Mukden-Port Arthur rail line, along which Japanese civilians were fleeing. He was protected in this disobedience to orders by Tojo and other powerful friends in Tokyo.
By 13 August his formations had all but disintegrated, and a mutiny by Manchurian puppet troops at Changchun spoiled any effort to regroup. He surrendered to the Russians on 21 August 1945 and was not repatriated until 1956.
Service record

| | | |
| --- | --- | --- |
| 1884 | | Born |
| 1905 | Second lieutenant | Commissioned an infantry officer |
| 1917 | | Graduates from Army War College |
| 1929 | Colonel | Commander, 48 Regiment |
| 1931 | | Chief of staff, 4 Division |
| 1932 | | Kwantung Army |
| 1934-8-1 | Major general | Head of 3 Bureau, Army General Staff |
| 1935-8-13 | | Head of Personnel Bureau, Ministry of War |
| 1937-3-1 | | Head of Military Affairs Bureau, Ministry of War |
| 1937-10-5 | Lieutenant general | Commander, 26 Division |
| 1939-8-1 | | Commander, 4 Army |
| 1940-10-5 | | Commander, South China Area Army |
| 1941-7-7 | | Chief of staff, China Expeditionary Army |
| 1942-8-17 | | Commander, Central District Army |
| 1944-2-21 | | Deputy chief of staff, Army General Staff |
| 1944 | | Supreme War Council |
| 1944-3-28 | | Inspector-general of Army Aviation |
| 1944 | | Head of aeronautical bureau, Ministry of War |
| 1944-8-25 | | Commander, 3 Area Army |
| 1945-8-21 | | POW in Russia |
| 1956-12-26 | | Repatriated |
| 1973 | | Dies |
References
Generals.dk (accessed 2007-11-14)

Peattie et al. (2011)
Pettibone (2007)
---