| | |
| --- | --- |
| The Pacific War Online Encyclopedia | |
---
---
graduate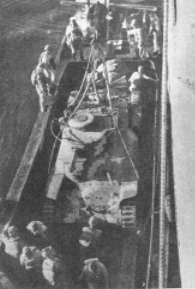 Taki (2014). Fair use may apply.
Tonnage

20 tons light displacement

Dimensions

57'9" by 12'2" by 3'3"
17.6m by 3.7m by 1.0m

Maximum speed
9 knots

Complement

15

Armament

1 heavy machine gun or 2 light machine guns or 3 25mm/60 AA guns

Machinery

1-shaft diesel (150 hp)

Range

100 nautical miles (190 km) at 7.5 knots
50 nautical miles (90 km) at 8.5 knots

Cargo

1 Type 97 15.6 ton tank or 100 men or 16 tons cargo

Production

Perhaps 163 beginning in 1940

The Toku Daihatsu or 17m landing craft (Army Type N-L-BD) resembled the Allied LCVP, with a bow ramp that was lowered on hitting the beach. It was essentially a larger version of the Daihatsu, intended for landing small tanks or vehicles, and was built of welded steel. The Navy ordered 163 of these craft, but it is not known how many were actually completed (though at least 35 were built in 1943-44).
These craft were used extensively to run troops and supplies to isolated garrisons in the Solomons and elsewhere. The Japanese referred to these operations as "ant runs." As the war progressed, Allied air forces and PT boats became adept at intercepting and destroying these craft.

References
Jentschura, Jung, and Mickel (1977)
---