| | |
| --- | --- |
| The Pacific War Online Encyclopedia | |
---
---
graduate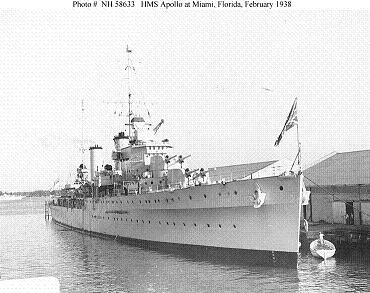 Naval Historical Center #NH 58633.
Tonnage

6830 tons standard displacement


Dimensions

562'3" by 56'8" by 18'6"


171.37m by 17.27m by 5.64m


Maximum speed

32.5 knots

Complement

570

1 seaplane catapult

1 seaplane

Armament

4x2 6"/45 guns

2x4 21" torpedo tubes

3"+1" (76mm+25mm) NC+D steel belt
1.25" (32mm) D steel deck
1"/3.5" (25mm/89mm) NC magazine sides/crowns
1" (25mm) turret

Machinery

4-shaft Parsons geared turbine (72,000 shp)
4 Admiralty 3-drum boilers


Bunkerage

1606 tons fuel oil

Range

7180 nautical miles (14,400 km) at 12 knots

Sensors

Type 271 radar

Modifications


Hobart

had landed her catapult by the time war broke out in the Pacific.
1945-1:

Hobart

's radar thoroughly modernized, to include Type 277, Type 281B, SG for search and Types 282, 283, and 285 for fire control. Light antiaicraft was 3x2, 5x1 40mm Bofors, 2x4 2pdr, and a 20mm.


The Sydneys were completed from 1935-1936 in British yards and subsequently transferred to the Royal Australian Navy. They were based on the Leanders but had two funnels so that they could accomodate aircraft amidships. They also had greater machinery dispersal, which made them somewhat less habitable. Their welded construction brought them in under their design displacement. The ships were somewhat fragile, judging from the fact that Hobart required 17 months to repair following a single torpedo hit.

References
---