| | |
| --- | --- |
| The Pacific War Online Encyclopedia | |
---
---
graduate
Swing, Joseph May (1894-1984)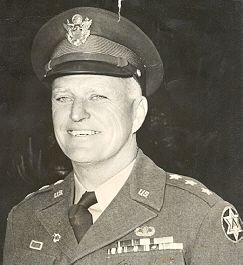 U.S. Army. Via Arlington National Cemetary Website

Swing was a former artillerist whose service as an artillery commander in the cavalry was excellent preparation for mastering the logistics of airborne troops. Following the fiasco of the airborne drops in Sicily, he arranged for maneuvers by 82 Airborne Division that helped dissuade Leslie McNair, the Army's Ground Forces Commander, from abolishing the divisions in favor of much smaller units resembling regimental combat teams. The Swing Board also released a report that was highly influential on subsequent paratroop doctrine.

Swing commanded 11 Airborne Division in the Luzon campaign. Though Swift insisted that his paratroops train to ride in gliders and his glider troops learn to make jumps, his division did not actually drop, but was landed south of Manila and drove north towards the city.
Swing directed the occupation of Atsugi airfield, the largest military airfield in Japan, in the first days of the occupation. Upon retirement, Swing became a commissioner of the Bureau of Immigration and Naturalization.
Service record

| | | |
| --- | --- | --- |
| 1894-2-28 | | Born at Jersey City, New Jersey |
| 1915 | Second lieutenant | Graduates from Military Academy. Assigned to 4 Field Artillery |
| 1916 | First lieutenant | 8 Field Artillery |
| 1917 | Captain | Aide-de-campe, General March |
| 1918 | | Aide-de-campe, Army Chief of Staff |
| 1921 | | 1 Field Artillery |
| 1924 | Major | |
| 1926 | | Command and General Staff School |
| 1927 | | Instructor, Field Artillery School |
| 1931 | | Office of the Chief of Field Artillery |
| 1934 | | Army War College |
| 1935 | | Executive officer, 6 Field ARtillery |
| 1936 | Lieutenant colonel | |
| 1938 | | Assistant chief of staff, G-2 (Intelligence), 2 Division |
| 1940 | | Chief of staff, 2 Division |
| 1941 | Colonel | Commander, Artillery, 1 Cavalry Division |
| 1942 | Brigadier general | Commander, Artillery, 82 Division |
| 1942-8-15 | | Commander, Artillery, 82 Airborne Division |
| 1942 | | War Department |
| 1943-2 | Major general | Commander, 11 Airborne Division |
| 1948 | | Commander, I Corps |
| 1949 | | Commandant, Artillery School |
| 1950 | | Commandant, Army War College |
| 1951 | Lieutenant general | Commander, 6 Army |
| 1954 | | Retires |
| 1984-12-9 | | Dies |
References
Arlington National Cemetary Website (accessed 2008-7-4)
Generals.dk (accessed 2008-7-4)
---