| | |
| --- | --- |
| The Pacific War Online Encyclopedia | |
---
---
graduate
Sultan, Daniel Isom (1885-1947)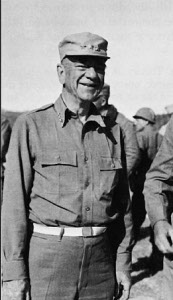 U.S. Army. Via ibiblio.org

Daniel Sultan was born in Mississippi and attended the University of Mississippi before graduating from West Point in 1907 as an engineer. He graduated from the Engineer School in 1910 and helped construct the fortifications on Corregidor during the First World War. He graduated from the Command and General Staff School in 1923 and the Army War College in 1926 and was involved in numerous civil engineering projects during the late 1920s and early 1930s. He was promoted to brigadier general in December 1938 and commanded the Hawaiian Division in 1941.
The outbreak of war found Sultan in command of 38 Division in Mississippi. He commanded VII Corps in late 1942 before being named as deputy to Stilwell in the China-Burma-India theater in January 1943. He was responsible for developing a road for military supplies from northeast India to China (the Ledo Road).

Dan Sultan is the best thing that ever happened to the theater.
-- Stilwell

Promoted to lieutenant general in September 1944, Sultan took command of Burma-India on the recall of Stilwell in October. He commanded two Chinese armies and a British division in support of Slim's November 1944 offensive, but his Chinese divisions were recalled to China by Chiang Kai-shek once Lashio was captured. With no army to command, Sultan was recalled to Washington in July 1945, where he became the first soldier to be awarded a fourth Distinguished Service Medal.
Sullivan was a superb engineer and had a firm grasp of logistics. His integrity and loyalty were unimpeachable.
Service record

| | | |
| --- | --- | --- |
| 1885 | | Born in Mississippi |
| 1907 | Second lieutenant | Graduates from West Point, standing 9th in a class of 111 |
| 1912 | | Instructor, West Point |
| 1916 | | Corps of Engineers, Manila |
| 1918 | | War Department General Staff |
| 1929 | | Nicaragua Canal Survey |
| 1934 | | Engineering Commissioner, District of Columbia |
| 1938 | | Commander, 2 Engineer Regiment |
| 1938-12 | Brigadier general | |
| 1939 | | Commander, 22 Brigade, Hawaii |
| 1941 | Major general | Commander, Hawaiian Division |
| 1941-4 | | Commander, 38 Division |
| 1942-4 | | Commander, VII Corps |
| 1943-1 | | Deputy commander, U.S. Army Forces, China-Burma-India Theater of Operations |
| 1944-9 | Lieutenant general | |
| 1944-10-27 | | Commander, U.S. Burma-India Theater of Operations |
| 1945-7-14 | | Inspector-General of the Army |
| 1947-1-14 | | Dies |
References
Generals.dk (accessed 2008-7-3)
---