| | |
| --- | --- |
| The Pacific War Online Encyclopedia | |
---
---
graduate
Shimizu Mitsumi (1888-1971)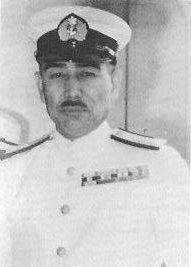 Prange (1981). Fair use may apply.

Shimizu Mitsumi was commander of 6 Fleet, the Japanese submarine force, at the start of the Pacific War. He was an odd choice: Though considered extremely intelligent, he had no experience in submarines, having spent his entire career in cruisers and battleships. His submarine forces operated close to Allied ports to attack warships, a strategy that proved as unsuccessful for the Japanese as for the Allies.

Shimizu was wounded in the early Allied raids on the Marshalls, in February 1942. In July 1942 Shimizu transferred to command of 1 Fleet, the main Japanese battleship force.
Prange (1981) describes Shimizu as "a handsome man of calm and dignified presence." He was widely regarded as a friendly, competent officer.

Service record
1888-3-16
Born
1908-11-21

Midshipman
Graduates from Naval Academy, standing 24th in a class of 191. Assigned to CL

Soya

1909-8-2
BB

Katori



1909-12-1
CL

Hashidate



1910-1-15
Ensign
1910-3-1
BC

Ikoma



1910-6-27
BB

Sagami



1911-8-4
Gunnery School Basic Course
1911-12-1
Lieutenant junior grade

1911-12-20
Torpedo School Basic Course
1912-4-24
DD

Ariake



1913-12-1
Yokosuka Sailor Corps

1914-12-1
Lieutenant
Naval College B-Course
1915-5-26
Torpedo School Advanced Course
1915-12-13
Staff, Battleship Division 2

1916-12-1
Staff, 3 Fleet

1917-12-17
Instructor, Torpedo School

1918-12-1
Naval College A-Course
1920-12-1
Lieutenant commander

Staff, 1 Fleet

1922-5-1
Instructor, Torpedo School
1923-12-1
Staff, Bureau of Education, Navy Ministry

1925-12-1
Commander
Executive officer, AS

Jingei

1926-12-1
Staff, 3 Naval District

1929-2-15
Trip to Europe, United States

1929-11-30
Captain
1930-2-5
Chief, S2, Bureau of Naval Affairs, Navy Ministry

1931-5-1
Commander, CL

Tama

1931-12-1
Chief, S1, Bureau of Personnel, Navy Ministry

1934-4-1
Navy General Staff

1934-11-1
Commander, BB

Ise

1935-10-31
Chief of staff, 3 Naval District
1935-11-15
Rear admiral

1936-12-1
Director, Bureau of Personnel, Navy Ministry

1938-12-15
Cruiser Division 7

1939-5-20
Cruiser Division 6

1939-11-15
Vice admiral

Navy General Staff

1940-6-1
Commander, Training Fleet
1940-9-30
Commander, 3 China Fleet

1941-7-21
Commander, 6 Fleet

1942-3-16
Navy General Staff

1942-7-14
Commander, 1 Fleet

1943-10-20
Navy General Staff
1944-2-21


Retires

1971-5-5
Dies
References

Materials of IJN (accessed 2008-4-3)

---