| | |
| --- | --- |
| The Pacific War Online Encyclopedia | |
---
---
graduate
Cho Isamu (1894-1945)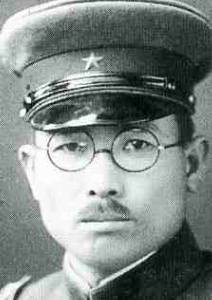 Cho was a radical Japanese Army officer and a leading practitioner of gekokujo, "leading from below" or "loyal insubordination." He was implicated in a failed 1931 conspiracy to assassinate the prime minister, but was transferred to Kwantung Army rather than brought before a court-martial. He was chief of staff of 10 Army during the Rape of Nanking and is though to be complicit in ordering the massacre of Chinese prisoners of war. He was then transferred back to Manchuria, where he was involved in the 1938 Changkufeng border incident that nearly provoked a war with Russia. He helped plan the Centrifugal Offensive as member of Unit 82. A staff officer with Southern Army when war broke out, he was given command of the infantry group of 10 Division in Manchuria in November 1942.
Cho was chief of staff of 32 Army at Okinawa and masterminded the elaborate underground fortifications around Shuri Castle. Dissatisfied with the lack of offensive spirit he perceived in the tactical doctrine of shūgettsu ("bleeding strategy"), he joined with his friend Fujioka Takeo and and the more cautious Anamiya Tatsumi to persuaded Ushijima to launch the disastrous 5 May 1945 counterattack. Cho committed ritual suicide alongside Ushijima on 21 June 1945.

Cho had a reputation for slapping his subordinates and for overindulging in smoking, drinking, and women. He was ruthless in his treatment of the Okinawans, relocating those who could not be evacuated by ship to the wild northern regions of the island and announcing that the Army would seize all food supplies when the enemy landed. "The army's mission ... was to win, and it would not allow itself to be defeated by helping starving civilians" (Drea 2009). His final message included the assertion that "I depart without regret, shame or obligations" (Gilbert 1989).

Service record
| | | |
| --- | --- | --- |
| 1894 | | Born |
| 1937-8-15 | Lieutenant colonel | Chief, 2 Section, Shanghai Expeditionary ForceEdgerton (1997) |
| 1937-10-20 | | Chief of staff, 10 Army |
| 1938-7-15 | Colonel | Commander, 74 Regiment, Manchuria |
| 1939-3-9 | | Chief of staff, 26 Division |
| 1940-8-1 | | Taiwan Army Headquarters |
| 1940-9-7 | | Chief of staff, Indochina Expeditionary Army |
| 1941-6-28 | | Vice chief of staff, 25 Army |
| 1941-9-26 | | Military Affairs Bureau, Ministry of War |
| 1941-10-15 | Major general | Vice chief of staff, Unit 82 |
| 1941-11 | | Head, Southern Army Special Agency |
| 1942 | | Southern Army Liaison Officer to 14 Army |
| 1942-7-9 | | Military Affairs Bureau, Ministry of War |
| 1942-11-10 | | Commander, Infantry Group, 10 Division |
| 1944-3-1 | | Kwantung Army Headquarters |
| 1944-3-1 | | Commander, 1 Mobile Brigade |
| 1944-6-26 | | General Staff |
| 1944-7-8 | | Chief of staff, 32 Army |
| 1945-3-1 | Lieutenant general | |
| 1945-6-21 | | Commits suicide at Okinawa |
References
Generals.dk (accessed 2014-3-2)
---