| | |
| --- | --- |
| The Pacific War Online Encyclopedia | |
---
---
graduate
Sprague, Clifton Albert Frederick (1896-1955)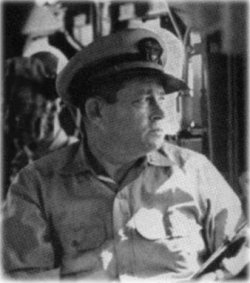 U.S. Navy. Via Bosamar.com

"Ziggy" Sprague was born in Massachusetts and graduated from the Naval Academy in 1917. He served in the Mediterranean and passed flight training in 1920. During the period 1926-1928 he helped develop arresting gear for aircraft carriers. He helped outfit Yorktown and became her first air officer in 1939.
Sprague was captain of the seaplane tender Tangier at Pearl Harbor at the outbreak of the Pacific war. He was chief of staff to the Gulf Sea Frontier from June 1942 to March 1943 and brought the second Wasp into commission in November 1943, commanding her at the battle of the Philippine Sea. Promoted to rear admiral in August 1944, Sprague commanded Task Unit 77.4.3, which consisted of escort carriers. During the battle of Leyte Gulf, his unit came under direct attack from heavy Japanese surface warships after Halsey's Third Fleet was lured away by Ozawa's decoy force, allowing Kurita to break through San Bernardino Strait. Sprague remained cool and his ships fought with outstanding courage against terrible odds, and most survived when Kurita abruptly broke off the action.
Sprague subsequently commanded escort carrier forces at Iwo Jima and Okinawa. He received command of Carrier Division 2, a fast carrier division, in February 1945. Following the surrender, he helped conduct the Pacific nuclear bomb tests in the summer of 1946 and retired in November 1951.

Sprague cultivated an informal and egalitarian attitude towards his men, making time to walk the deck and chat with enlisted sailors. But he was also a thoroughly professional naval aviator who got the best out of his motley crews of greenhorn enlistees. Boatner described him as "chubby, thorough, and conscientious."

Service record

1896-1-8



Born at Boston

1917-6-28

Ensign

Graduates from Naval Academy, standing 43rd in a class of 199.

1920



Flight training

1939



CV

Yorktown



1941

Captain

Commander, AV

Tangier



1942-6



Chief of staff, Gulf Sea Frontier

1943-4



Commander, Seattle Naval Air Station

1943-8-17



Commander, CV

Wasp



1944-7-22

Rear admiral

Commander, Carrier Division 25

1945-2



Commander, Carrier Division 26

1945-4-7



Commander, Carrier Division 2

1946



Navy Air Group, Operation Crossroads

1948



Commander, Carrier Division 6

1949



Commander, 17 Naval District

1951-11-1

Vice admiral

Retires

1955-4-1



Dies at San Diego Naval Hospital

References
Hornfischer (2004)
Pettibone (2006)
Tuohy (2007)
---