| | |
| --- | --- |
| The Pacific War Online Encyclopedia | |
---
---
graduate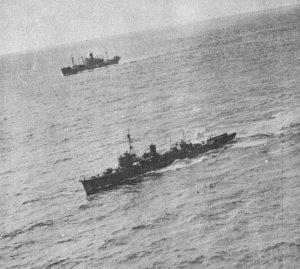 U.S. Navy. Via ibiblio.org

Tonnage
720 tons standard
Dimensions
247'8" by 25'9" by 8'6"
75.50m by 7.85m by 2.60m

Maximum speed
20 knots
Complement
56-80
Armament
2 Vickers 2pdr guns (Sokuten) or 1 3"/40 AA gun (Hirashima)
2 13mm/76 machine guns
120 mines
Machinery

2-shaft geared diesel (3600 ihp)

Bunkerage

35 tons diesel oil

Range

2550 nautical miles (4700km) at 14 knots

Modifications
1943: Bunkerage increased to 88 tons, increasing the range to 5000 nm (9300 km), and 4 depth charge throwers (36 depth charges) added.
1944: Selected units received 6-15 25mm/60 AA guns in place of the 13mm machine guns.


The Sokutens were completed in 1938-1942. They were small hybrid minelayers/net tenders. We include here the very similar Hirashima class, which had identical hulls and machinery and differed only in details of the armament. The differences tended to be erased as the ships were refitted.
References
Gogin (2010; accessed 2013-4-6)
Jentschura, Jung, and Mickel (1977)
The Pacific War Online Encyclopedia © 2007, 2011, 2013 by Kent G. Budge. Index
---