| | |
| --- | --- |
| The Pacific War Online Encyclopedia | |
---
---
graduate
Savige, Stanley George (1890-1954)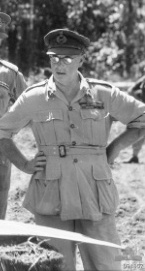 Australian War Memorial

Via Wikipedia

Savige was born to a poor butcher's family and left school at age twelve. He enlisted in the Australian Imperial Force and fought at Gallipoli, where he received a battlefield commission. By 1916 he was an intelligence officer in France. Between the wars he worked for a clothing manufacturer and founded Legacy, a veteran's organization, while continuing to serve in the Australian militia.

A close friend of Thomas Blamey, he was given command of 17 Brigade on the outbreak of war in Europe, leading his unit in fighting in Libya. He was severely criticized by regular officers for losing control of his unit in the confused fighting at Bardia, but his courage in the Greece debacle helped prevent his being retired on returning to Australia in 1941. The oubreak of war in the Pacific led to his being given command of 3 Division in New Guinea. He was praised for leading from the front, but he also drew controversy for carrying out an aggressive and costly offensive campaign against the isolated and starving 17 Army on Bougainville.
Following the Japanese surrender, Savige retired to again become active in veteran's affairs.
Savige was a courageous and inspirational leader, but his lack of formal education left him vulnerable to accusations that he was not qualified to lead large units in modern warfare. He became increasingly reliant on the patronage of Blamey and resentful of regular officers. Australian journalist John Hetherington concluded that "Savige did not pretend to be a military genius, but only a commander who knew his way round the battlefield because he had learned his soldiering the hard way."
Service record

| | | |
| --- | --- | --- |
| 1890-6-26 | | Born at Morwell, Victoria |
| 1915-3-6 | Private | Enlists in the Australian Imperial Force |
| 1915-11-9 | Second lieutenant | Received battlefield commission, Gallipoli |
| 1916-9 | Captain | |
| 1924 | Major | Commander, 37 Battalion |
| 1926 | Lieutenant colonel | |
| 1928 | | Commander, 24 Battalion |
| 1935 | Colonel | Commander, 10 Brigade |
| 1938 | Brigadier | |
| 1939-10-13 | | Commander, 17 Brigade, Libya |
| 1942-7-1 | Major general | Commander, 3 Division, New Guinea |
| 1944-2-10 | Lieutenant general | Commander, I Corps |
| 1944-4 | | Commander, II Corps |
| 1945 | | Director-general of demobilization |
| 1946-6-6 | | Retires |
| 1954-5-15 | | Dies |
References
Australian Dictionary of Biography (accessed 2010-8-10)
Generals.dk (accessed 2010-8-10)
---