| | |
| --- | --- |
| The Pacific War Online Encyclopedia | |
---
---
graduate
Rees, Thomas Wynford (1898-1959)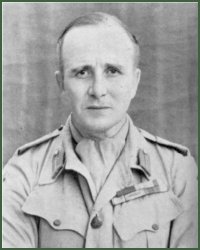 Generals.dk. Fair use may apply.

"Pete" Rees had been sacked from command of 10 Division because he disagreed with Gott's dispositions for the battle of Tobruk. However, he was subsequently given command of 19 Indian Division, which he held for the remainder of the war. He was a small, colorful man of Welsh extraction who got on well with his Assamese troops. Lewin (1976) has compared him with Rommel for his energetic leadership from the front.
Slim recalled in his memoirs a visit to Rees' headquarters during the battle of Mandalay in which he found the general singing hymns in Welch as his troops sang along in Khasi. "I looked on admiringly. My generals had character." (Slim 1956)
Rees made several broadcasts over the BBC from close to the front during the 1945 campaign in central Burma.

Service record

| | | |
| --- | --- | --- |
| 1898 | | Born |
| 1939 | Colonel | Commander, 3 Battalion, 6 Rajputana Rifles |
| 1940 | | Staff, 4 Indian Division |
| 1941 | Brigadier | Commander, 10 Indian Brigade, Sudan |
| 1942-3 | Major general | Commander, 10 Indian Division, Middle East |
| 1942-7 | | Commander, 19 Indian Division |
| 1947 | | Commander, 4 Indian Division |
| 1947 | | Commander, Punjab Boundary Force, India |
| 1947 | | Head, Military Emergency Staff, India |
| 1948 | | Retires |
| 1959 | | Dies |
References
Generals.dk (accessed 2008-11-15)

---