| | |
| --- | --- |
| The Pacific War Online Encyclopedia | |
---
---
graduate
Osaka
Osaka (135.464E 34.701N) was Japan's second largest city (population 3,254,320 in 1940) and the heart of her second industrial belt. Located on the delta of the Yodo River, the city has numerous canals and more than 800 bridges. The city first became prominent in 1583 under the shogun Toyotomi Hideyoshi and was first opened to Western trade in 1868.
Osaka produced about 10% of Japan's shipping and a third of her machinery and machine tools. The Osaka army arsenal supplied 20% of the Army's ordnance. Although no airframe assembly plants were located in the city, it was a major production center for aircraft parts.

Militarily important facilities in 1941 included Taisho Army Air Field, a satellite field at Sano, and the Fujinagata Dockyard. The latter produced destroyers and smaller warships. The city was the headquarters of the Central District Army and the home district for 4 Division.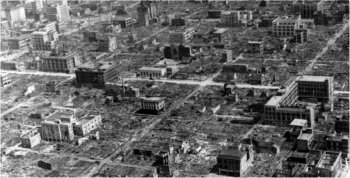 U.S. Army. Via ibiblio.org

The city was attacked by 274 B-29 Superfortresses of 20 Air Force with incendiary bombs on 13 March 1945. Eight square miles (2100 hectares) of the city were burned out, killing 3000 and leaving another 500,000 homeless. American losses were two bombers destroyed and eight damaged.

Osaka Bay was mined by submarine in 1942, but to little effect. More effective was the aerial mining campaign conducted by Superfortresses from 4 March 1945 on. The Japanese attempted to counter with coastal minesweepers equipped with primitive magnetic and acoustic sweeping gear, but to little effect: Of approximately 600 mines dropped in the bay in the final months of the war, just 163 were successfully swept.

| Yard | Floor Space | Building Way Length | Merchant Tonnage | Naval Tonnage |
| --- | --- | --- | --- | --- |
| Tsurumi | 887 | 3650 | 2906 | 806 |
| Fujinagata | 2097 | 1842 | 80 | 745 |
| Osaka | 342 | 1476 | 533 | 653 |
| Osaka-Amagasaki | 48 | 535 | 165 | 0 |
| Sanko | 112 | 1017 | 208 | 0 |
| Urabe | 15 | 298 | 102 | 0 |
| Naniwa | 126 | 1082 | 632 | 91 |
| Chikko-Hitachi | 609 | 0 | 0 | 0 |
| Amagasaki-Amagasaki | 139 | 680 | 428 | 0 |
| Settsu | 38 | 426 | 124 | 0 |
Rail connections
References
Craven and Cate (1952; accessed 2012-6-15)
Handbook on Japanese Military Forces (1944-9-15; accessed 2012-6-15)
USSBS (1945-10-30; accessed 2012-6-15)

---