| | |
| --- | --- |
| The Pacific War Online Encyclopedia | |
---
---
graduate
Obata Hideyoshi (1880-1944)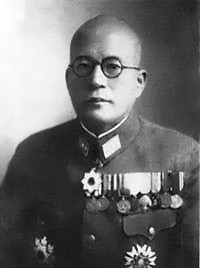 Japanese Army. Via Wikipedia Commons
Obata Hideyoshi was born in Osaka prefecture and was commissioned a cavalry officer in 1911. A graduate of the Army Staff College, he had also served as a military student in England and resident officer in India. He commanded the Akeno Army Air School in 1938-1940.

Obata commanded 5 Air Division in Formosa at the outbreak of war. His air division subsequently fought in Burma, with its first bombing raid taking place on 31 December 1941. He was given command of 3 Air Army in March 1943 but recalled to Tokyo in December.

Obata was given command of 31 Army, built around 29 and 52 Divisions, on 18 February 1944. He warned Nagumo that supplies for building fortifications were required at once (Toland 1971):
Specifically, unless the units are supplied with cement, steel reinforcements for cement, barbed wire, lumber, etc., which cannot be obtained in these islands, no matter how many soldiers there are they can do nothing in regard to fortifications but sit around with their arms folded, and the situation is unbearable.
Obata was away from his headquarters on Saipan when the Americans invaded on 11 June 1944. Unable to return, he reestablished his headquarters at Guam. He probably committed suicide on 11 August 1944 when Japanese resistance collapsed.

Obata was described by his Navy counterpart as "extremely intelligent and, for an army officer, of extremely broad vision" (Morison 1951).

Service record

| | | |
| --- | --- | --- |
| 1880 | | Born in Osaka prefecture |
| 1911 | | Commissioned as cavalry officer |
| 1934 | | Chief of training section, Army General Staff |
| 1935 | Colonel | Commander, 14 Cavalry Regiment |
| 1937 | | 2 Air Group |
| 1937 | | Director, Akeno Army Aviation School |
| 1938 | | Commandant, Akeno Army Aviation School |
| 1940 | | Army Aviation Corps |
| 1940 | Major General | Commander, 5 Air Division |
| 1943-3 | | Commander, 3 Air Army |
| 1943-12 | | Army General Staff |
| 1944-2-18 | Lieutenant General | Commander, 31 Army |
| 1944-8-11 | | Committed suicide on Guam |
References
Generals.de (accessed 2007-11-14)

---