| | |
| --- | --- |
| The Pacific War Online Encyclopedia | |
---
---
graduate
Johnson, Davenport (1890-1963)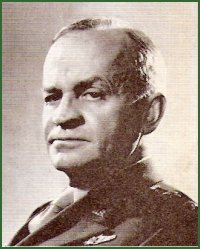 generals.dk. Fair use may apply.
Davenport Johnson participated in the Vera Cruz expedition in 1914 before taking flight training in 1916. He then participated in the Punitive Expedition in Mexico before becoming an observer and, after the U.S. intervention, an instructor and then a combat pilot in France during the First World War.

During the Second World War, Johnson served in stateside posts, punctuated by an inspection tour in England and the Middle East. During this time, he argued against the emphasis on aircraft numbers that dominated production plans, particularly singling out the Vultee Vengeance as an aircraft meeting no requirement other than increasing production numbers. He took command of 11 Air Force in Alaska in late 1943, then relieved Simon Buckner as commander of Alaska Defense Command when Buckner was given command of 10 Army for the invasion of Okinawa. By then the Aleutians had become a backwater theater.

Service record
| | | |
| --- | --- | --- |
| 1890-3-28 | | Born in Tyler, Texas |
| 1912-6-12 | Second lieutenant | Graduates from U.S. Military Academy. Assigned to 19 Regiment. |
| 1913-2-15 | | Fort Sill |
| 1916-2 | | Flight training |
| 1916-7-1 | First lieutenant | |
| 1916-9 | | 1 Aero Squadron |
| 1917-2 | | Observer, France |
| 1917-8 | | Flight instructor, France |
| 1918-1-15 | | Combat flight operations |
| 1919-3-1 | | Commander, 2 Pursuit Group |
| 1919-4-3 | | Commander, 1 Pursuit Group |
| 1919-4-28 | | Commander, Kelly Field |
| 1920-2-28 | Captain | |
| 1920-7-1 | Major | |
| 1920-9-1 | | Air Corps Field Officers School |
| 1921 | | Instructor, Air Corps Field Officers School |
| 1925-8 | | Command and General Staff School |
| 1926-6 | | Instructor, Air Corps Tactical School |
| 1928-7 | | Army War College |
| 1929-6 | | Office of the Chief of the Air Corps |
| 1930-2 | | Commander, Fort Crockett, Texas |
| 1932-7 | | Military Intelligence Division, War Department |
| 1933-7-1 | | Chief, Balkans and Near East Section, Military Intelligence Division |
| 1935-8-1 | Lieutenant colonel | |
| 1936-8-27 | Colonel | Commander, 7 Bombardment Group, Hamilton Field |
| 1938-3-19 | | Assistant Commandant, Air Corps Technical School |
| 1940-10-2 | Brigadier general | Assistant Chief of the Air Corps |
| 1941-7-31 | | Caribbean Defense Command |
| 1941-8-5 | Major general | |
| 1941-9-19 | | Commander, Caribbean Air Force |
| 1942-9-18 | | Commander, 6 Air Force, Panama Canal Zone |
| 1942-11 | | Director of Military Personnel, Army Air Forces |
| 1943-2-25 | | Commander, 2 Air Force, Fort George Wright |
| 1943 | | Inspection tour of heavy bombing operations in the United Kingdom and Middle East |
| 1943-9-13 | | Commander, 11 Air Force, Alaska |
| 1945-5-4 | | Commander, Alaska Defense Command |
| 1945-11-30 | | Retired for disability in the line of duty |
| 1963-10-21 | | Dies |
References
Craven and Cate (1955; accessed 2014-6-7)

Generals.dk (accessed 2014-6-6)
U.S. Air Force (accessed 2014-6-6)

The Pacific War Online Encyclopedia © 2007-2008, 2014 by Kent G. Budge. Index
---