| | |
| --- | --- |
| The Pacific War Online Encyclopedia | |
---
---
graduate
Hodge, John Reed (1893-1963)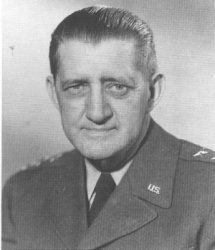 National Archives. Via Gailey (1991)

Hodge was born in Illinois and attended the Southern Illinois Teachers College and the University of Illinois. In 1917 he entered a reserve officer training program at Fort Sheridan, receiving his commission in 1917 and serving in France and Luxembourg during the First World War. Remaining in the Army following the end of the war, he taught military science at Mississippi State University from 1921-1925 and graduated from the Infantry School in 1926. After a posting to Hawaii, he graduated from the Command and General Staff School, the Army War College, and the Air Corps Tactical School.
Hodge was part of the staff of VII Corps when war broke out. Immediately thereafter he was promoted to lieutenant colonel and made chief of staff of VII Corps. In June 1942 he was promoted to brigadier general and made deputy commander of 25 Division, and he fought with his division at Guadalcanal. In April 1943 he was promoted to major general and command of Americal Division. When the offensive on New Georgia bogged down, he was briefly sent in to relieve the exhausted Hester as commander of 43 Division. Harmon described him at this time as the "best Div Comdr I have in area for this particular job" (Miller 1959).

Hodge commanded Americal Division at Bougainville, then (in April 1944) took command of XXIV Corps. His unit went ashore at Leyte on 20 October 1944 and fought at Okinawa in April-June 1945. He was appointed lieutenant general at the end of the Okinawa campaign.
Postwar, Hodge commanded U.S. forces in Korea. He was named commander of V Corps in November 1948, 3 Army in June 1950, and Army Field Forces in 1952. In July of that year he was promoted to full general. He retired in 1953.
Hodge was a tough soldier, a strict disciplinarian, and an excellent trainer of troops. However, he lacked diplomatic skills and was unprepared for the nonmilitary aspects of commanding the occupation forces in postwar Korea.

Service record

| | | |
| --- | --- | --- |
| 1893 | | Born in Illinois |
| 1917 | Second lieutenant | Graduates from ROTC program at Fort Sheridan |
| 1921 | | Instructor in military science, Mississippi State University |
| 1925 | | Infantry School |
| 1934 | | Graduates from Command and General Staff School, standing 5th out of 118 in his class |
| 1941 | Lieutenant colonel | Chief of staff, VII Corps |
| 1942-6 | Brigadier general | Assistant commander, 25 Division, Guadalcanal |
| 1943-4 | Major general | Commander, 43 Division, New Georgia |
| 1943 | | Commander, Americal Division, Bougainville |
| 1944-4 | | Commander, XXIV Corps, Leyte and Okinawa |
| 1945-6 | Lieutenant general | |
| 1948-11 | | Commander, V Corps, Korea |
| 1950-6 | | Commander, 3 Army |
| 1952 | | Commander, Army Field Forces |
| 1952-7 | General | |
| 1953 | | Retires |
| 1963 | | Dies |
References
Generals.dk (accessed 2008-3-15)
---