| | |
| --- | --- |
| The Pacific War Online Encyclopedia | |
---
---
graduate
Efate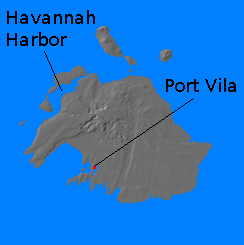 Efate (168.301E 17.734S) was an island of the New Hebrides group about 35 miles (56 km) in diameter. The island is mountainous in the northwest, with elevations of up to 2300 feet (700 meters). There is an area of hot springs at Quain Hill on the northeast coast, reflecting the volcanic origins of the island. The southern part of the island is flat and well-watered, and various crops, including copra, were cultivated here. It had a good anchorage at Havannah Harbor, with a few commercial piers and other primitive port facilities and a seaplane ramp at Port-Vila and a population about 400 Europeans and 2000 natives. Havannah Harbor remained undeveloped because of its isolation from the rest of the island by the northwest mountains.

With the fall of metropolitan France in June 1940, the resident at Efate declared for the Free French and was promptly dismissed by the High Commissioner of New Caledonia. He ignored his own dismissal, and when a referendum in September came out in favor of the Free French, he briefly relieved the High Commissioner at New Caledonia in turn.

Located some 300 miles (480 km) northeast of Noumea, Efate was a good location for a base to cover the supply route from the U.S. West Coast to Australia, and Admiral King recommended its development as early as 18 February 1942. By March 1942, King had suggested the base could be a starting point "from which a step-by-step general advance could be made through the New Hebrides, Solomons and Bismarcks." This was essentially how the campaign in the South Pacific unfolded in 1942-1943.

Allied forces began arriving at Efate on 18 March 1942, beginning with 500 men from the Americal Division in New Caledonia. These were reinforced on 24 May by the ground echelon of VMF-212, 4 Marine Defense Battalion, and 24 Regiment, an African-American unit. The airfield at Port-Vila had a 6000' (1830 meter) runway ready for combat operations by the time the Guadalcanal campaign got under way in August 1942. This was subsequently named Bauer Field. Flying boats operated from Havannah Harbor, to which a road was constructed in 1943, and a 3000' (460 meter) airstrip was completed at Havannah Harbor in September 1942 and a 6000' (1830 meter) runway at Quain Hill in January 1943. However, the base had outlived its usefulness by early 1944, and it was closed in February 1946.

References
---