| | |
| --- | --- |
| The Pacific War Online Encyclopedia | |
---
---
graduate
Destroyer Escorts (DE)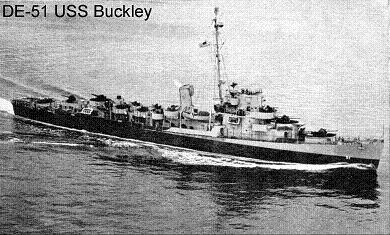 Destroyer escorts were oceangoing antisubmarine vessels that carried a destroyer's complement of depth charges and other antisubmarine gear, but not the full surface and antiaircraft weaponry. They were also smaller than destroyers, not nearly as fast (20 knots, about as fast as a surfaced submarine), and easier to build. They were designed for convoy escort rather than fleet operations.

Large numbers of destroyer escorts were constructed by the British and Americans, and they proved effective in both the Atlantic and the Pacific. One destroyer escort, the England, sank six Japanese submarines out of a patrol line whose location had been uncovered by the code breakers. The Japanese did not start building their equivalent of destroyer escorts until 1943, which was very late in the game, and they were never built in sufficient numbers.
The U.S. Destroyer Escort Program. The U.S. Navy had discussed constructing small, inexpensive destroyers for convoy escort before the war, but there was reluctance to build what were viewed as second-class destroyers. Instead, Navy planners assumed that an existing destroyer design (such as the Farragut) could be adapted for mass production if necessary. However, British experienced in 1940 made it clear that great numbers of vessels were required for escort duty. Prodded by the British, who desperately desired to acquire such vessels under Lend-Lease, the Americans reluctantly began serious study of the concept. In June 1941 the British military mission requested 100 vessels based on a U.S. Navy conceptual design for a 280' (85m) ship with two 5"/38 dual-purpose guns and a triple torpedo bank, as well as extensive antisubmarine gear, capable of 24 knots. A speed of 24 knots was considered the minimum necessary for escorting fast troop transports and for providing the acceleration required by antisubmarine tactics. The specifications also called for a double rudder to provide the required maneuverability.

The Americans initially planned to build a vast number of destroyer escorts (over a thousand were ordered) to a single design, but because of shortages of both 5" guns and machinery, six distinct classes were eventually built on the same basic plan. The Evarts were armed with 3" guns and used diesel engines; when these proved badly underpowered, with a maximum speed far short of the desired 24 knots, production shifted to the Buckley and Rudderow classes. These used more powerful turboelectric machinery that gave a speed just short of the desired 24 knots, but required a somewhat longer hull. The Buckleys were armed with 3" guns while the Rudderows were armed with 5" guns. The longer hull became standard, even when production shifted back to lower power diesel-electric (Cannon class) or diesel (Edsall class) engines, or to steam turbine engines (John C. Butler class). The Cannons and Edsalls had 3" guns while the John C. Butlers were armed with 5" guns. Because of the shortage of 5" guns, none were mounted on the classes with less powerful machinery. All had powerful antisubmarine armament, including QC sonar, multiple depth charge throwers, and Hedgehog (which was not installed on American fleet destroyers).

The ships proved very stable, which allowed them to ship considerable additional equipment. However, British officers complained that the ships were too stable, recovering from rolling so abruptly that crews were exhausted from the constant lurching and accurate gunnery was impossible. One British captain wrote acidly that
Rolling -- since this report is written at sea it is difficult to describe with reticence the nauseating movement of these vessels in the open sea ....

The violent "lurching" is the principal controlling factor in efficiency. As gun platforms these ships are satisfactory only under the most favorable weather....
Depth charge reloading is possible in a moderate heavy sea pounding the ship.... Under average conditions however it must be an even bet whether the throwers lob their charges vertically upwards and on to the quarter deck or immediately alongside propellers....
... these ships present no problem at all as to damage control. There is none.
(Friedman 2004.) The British modified the ships with deeper bilge keels that greatly reduced the rolling, much to the satisfaction of their officers. However, congested shipyards in both Britain and the United States meant that it took some time to complete the improvements.
Destroyer escort construction competed heavily with landing craft, and orders for new units began to be canceled, starting in September 1943. Other units were converted to fast transports.
British Escort Destroyers. The British acquired a large number of American destroyer escorts under Lend-Lease as the "Captain" class. The British also constructed a large number of small destroyers as the "Hunt" class. These were described as escort destroyers and likely inspired the American destroyer escort program, but differed from the American ships in having somewhat better speed (about 27 knots) and heavier antiaircraft armament. The program nearly came to disaster when inclination tests of the first hull showed that her metacentric height had been miscalculated by the designers and she would be too unstable to be seaworthy if completed as designed. Hasty design changes restored the necessary stability for the first group, and two additional groups with various improvements were ordered.

Few of the British escort destroyers were deployed to the Far East, and that late in the war. However, a handful arrived in time to participate in occupation operations in southeast Asia, and they doubtless would have participated in the invasion of Japan had that actually taken place.

The Japanese Destroyer Escort Program. The Japanese suffered crippling destroyer losses in the Solomons in 1942. While the standard Yugumo destroyer class was an excellent design, its construction took far too long to make good the Japanese losses. The Japanese Navy therefore rushed a new design into production (the Matsu class) that emphasized ease of construction and survivability. These were designated as destroyers but resembled the American destroyer escorts, being slightly smaller but faster and better armed. Further simplifications to speed up construction resulted in the Tachibana design.

Japanese destroyer escorts
U.S. destroyer escorts
British escort destroyers

References
The Pacific War Online Encyclopedia © 2007-2010, 2013 by Kent G. Budge. Index
---