| | |
| --- | --- |
| The Pacific War Online Encyclopedia | |
---
---
graduate
Burnett, Charles Stuart (1882-1945)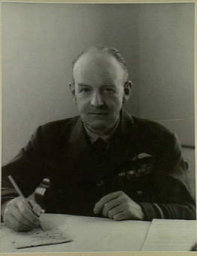 Australian War Memorial #001109
Cropped by author
Charles Burnett was born in Minnesota in the United States but was sent to England for his education. He falsified his age to join the British Army and participate in the Boer War, and was commissioned in 1901. He fought in Nigeria (1904-1906) before leaving the army in 1909 to become a shop owner in Portuguese Guinea. He became a civil servant in Nigeria in 1911 but rejoined the army when World War I broke out. Qualifying as a pilot in 1914, he rise rapidly through the ranks and served in France and Palestine, being decorated for his part in the capture of Jerusalem and accepting a permanent commission in the Royal Air Force in 1919. He served in numerous postings abroad until returning to England in 1935 to take command of RAF training.
Burnett accepted an offer to serve as Chief of the Australian Air Staff in December 1939, which created some resentment among senior Australian air commanders. This was further exacerbated by the great emphasis Burnett put on the Empire Air Training Scheme, which trained pilots for the Royal Air Force rather than the Royal Australian Air Force. Burnett believed a centralized Empire air force was necessary to defeat the Germans, and aimed to have some 50,000 recruits under training by March 1943. Critics claimed that this undercut Australia's own defense. In spite of his critics, he remained in command until early 1942, when the Japanese advance and friction with the new Labor government brought matters to a head, and he he was finally dismissed. However, by then he had expanded the Royal Australian Air Force to 79,074 men from 3,489 in late 1939.
Burnett returned to England and took command of Central Command, Air Training Corps, in 1943. He did not live to see the final victory, dying on 9 April 1945 from a heart attack.

Admirers described him as "a man of strong, decisive mind, with a gift of saying in a few words exactly what he thinks" (quoted in O'Neill 1993). However, Gamble (1910) credits him with "a monumental ego."

Service record

| | | |
| --- | --- | --- |
| 1882-4-3 | | Born at Browns Valley, Minnesota, United States |
| 1899 | Private | Enlists in the Imperial Yeomanry |
| 1901-10-2 | Second lieutenant | Commissioned in Highland Light Infantry |
| 1909 | | Resigns from the Army |
| 1914-10 | | Qualifies as a pilot |
| 1916 | | Squadron commander, France |
| 1917-10 | Temporary lieutenant colonel | Commander, 5 Wing, Palestine |
| 1920 | | Commander, Air Operations, Iraq |
| 1929 | Air commodore | Chief of staff, Iraq |
| 1931-7 | Air vice marshal | |
| 1932 | | Air officer commanding, Iraq |
| 1935 | | Commander, Inland Area |
| 1936 | | Commander, Training Command |
| 1936-7-10 | Air marshall | |
| 1939 | | Inspector-general, Royal Air Force |
| 1939-12 | Air chief marshall | Chief of the Australian Air Staff |
| 1942-5 | | Dismissed |
| 1943 | | Recalled. Commandant, Central Command, Air Training Corps |
| 1945-4-9 | | Dies at Halton, Buckinghamshire |
References
Gamble (2010)
O'Neill (1993; accessed 2013-4-7)

---