| | |
| --- | --- |
| The Pacific War Online Encyclopedia | |
---
---
graduate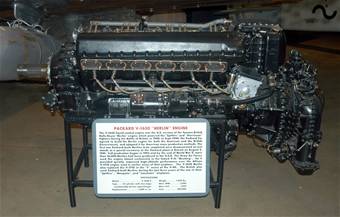 National Museum of the USAF
The British Rolls-Royce Merlin was a liquid-cooled two-stage supercharged aircraft engine with 12 cylinders and a displacement of 1649 cubic inches (27.0 liters.) Total weight was 1690 lbs (767 kg) and maximum rotations per minute was 3000. Its supercharger was superior to that in the V-1710 Allison, giving it much better high altitude performance.

The Packard-Merlin V-1650 was a version produced under license in the United States by Packard using American methods of mass production. Full production began in 1942 and 55,511 engines were produced. Individual cost was about $25,000.

Model

Horsepower

Wattage

72

1680 hp
1253 kW
V-1650-1

1300 hp

969 kW

V-1650-3

1380 hp takeoff
1595 hp at 17,000 feet
1295 hp at 28,750 feet
1029 kW takeoff
1189 kW at 5180 m
966 kW at 8760 m

V-1650-7

1695 hp

1264 kW

Aircraft using this engine included the P-40 Warhawk, P-51 Mustang, Spitfire, Mosquito, and Lancaster.

References
National Museum of the USAF (accessed 2008-2-27)


The Pacific War Online Encyclopedia © 2009 by Kent G. Budge. Index
---