| | |
| --- | --- |
| The Pacific War Online Encyclopedia | |
---
---
graduate
SM Fighter Direction Radar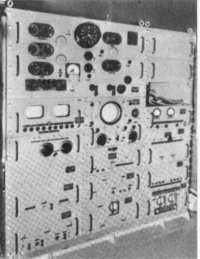 U.S. Navy. Via ibiblio.org

Wavelength
10 cm
Pulse Width
1 microsecond
Pulse Repetition Frequency
775-825 Hz
Power
600-700 kW
Range
50 nautical miles (90 km) (bomber)
25 nautical miles (50 km) (battleship)

Scan rate
2-6 rotations per minute in search mode
7.5 scans per second over a 60 degree sector in track mode
Scope

PPI with 10, 50, and 80 nautical mile (19, 90, and 150 km) distance scales
Accuracy
200 yards/0.5 degree/500 feet
180 meters/0.5 degrees/150 meters

Resolution
200 yards/3 degrees
180 meters/3 degrees

Production
First prototype installed on Lexington 3/43.
First two production models on Bunker Hill 9/43 and Enterprise 10/43.
A total of 23 were deployed through 1944-10.
Variants
The SM-1 was a lighter version. All 26 were given to the Royal Navy as Lend-Lease.

The SM was a fighter direction radar developed from the SCR-584. It was rather heavy at 9 tons and so was only installed on carriers. It could track in three dimensions with high accuracy and at close range, and it included a BM antenna for Identification Friend or Foe (IFF). However, its distinctive beam, which was narrow both horizontally and vertically, made it unsuitable for air search.

References
Friedman (1981)
Guerlac (1987)

---