| | |
| --- | --- |
| The Pacific War Online Encyclopedia | |
---
---
graduate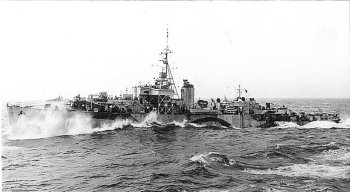 Tonnage

1370 tons standard displacement


Dimensions

301' by 36'6" by 9'
92m by 11.1m by 2.7m


Maximum speed

20 knots

Complement

140


Armament

2x1 4"/40 guns
2x2, 6x1 20mm Oerlikon AA guns
1 Hedgehog
8 depth charge throwers
2 depth charge racks (120 depth charges)

Machinery

2-shaft reciprocating (5500 ihp)

Bunkerage
500 tons


Range

5200 nautical miles (9600 km) at 12 knots
Sensors

Type 128 sonar
Type 277 radar

Modifications

Somewhat variable in armament; armament shown above was typical for Australian-constructed units.
A few units began to receive Type 275 radar in 1945.
The ships were to be fitted with single 40mm Bofors in place of some of their 20mm guns, but few were rearmed in time for service in the Far East.

The "Rivers" were built in 1941-1944 as mass-production convoy escorts for the North Atlantic. Units were produced in Britain, Canada and Australia, and a handful saw service in the Pacific.

The design was largely in response to the failings of the "Flower" class corvettes, which were originally intended as coastal escorts and lacked the speed and range desired for ocean escorts. The new design was expected to be able to sustain at least 20 knots, to keep up with a surfaced submarine, and the range was expected to be at least 3500 nautical miles at convoy speed to permit the ships to escort a convoy all the way across the North Atlantic. To speed development and production, the hulls were based on the Black Swan hull, but the ships had much less armament than a Black Swan. In effect, as Friedman (2006) put it, they were second-rate sloops.
The deeper draft compared with a "Flower" made for less rolling and better sonar performance. They carried a huge loadout of depth charges and correspondingly large numbers of depth charge throwers, allowing them to deliver a double layer pattern for better coverage in depth. They could ship minesweeping gear in port in exchange for all but 50 of their depth charges. They could also carry up to 22 barrage balloons.

| | | |
| --- | --- | --- |
| Balmain | Completed 1943-11-18 (Sydney) | RAN |
| Barcoo | Completed 1944-1-17 (Sydney) | RAN |
| Burdekin | Completed 1944-6-27 (Maryborough) | RAN |
| Hawkesbury | Completed 1944-7-5 (Sydney) | RAN |
| Lachlan | Completed 1945-2-14 (Sydney) | RAN |
| Diamantina | Completed 1945-4-27 (Maryborough) | RAN |
| Charlottetown | Arrived 1945-6 (Victoria) | RCN |
| Eastview | Arrived 1945-7 (Victoria) | RCN |
| Longueuil | Arrived 1945-7 (Victoria) | RCN |
| Nadder | Arrived 1945-7 | RN |
References
Friedman(2006)
Gogin (2010; accessed 2013-3-30)
Uboat.net (accessed 2012-11-5)
---