| | |
| --- | --- |
| The Pacific War Online Encyclopedia | |
---
---
graduate
Richmond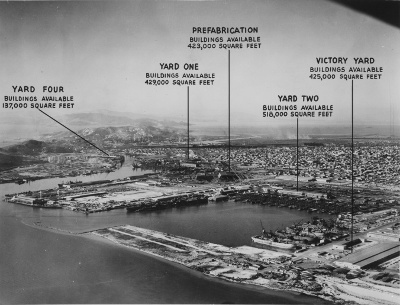 Richmond Public LIbrary. Fair use may apply.

Richmond (122.346W 37.915N) in 1940 was a rural community near Oakland with a population of just 23,000 persons. It became the site of a giant Kaiser shipyard complex producing ships for the Maritime Commission. This resulted in explosive growth, and the Maritime Commission was compelled to fund road improvements and the construction of 10,000 apartment units. Another 20,000 units were constructed by other government agencies and by private industry
Richmond Shipyard was run by Kaiser Shipbuilding Company for the Maritime Commission and had ten ways by late 1941. By the end of the war there were four separate shipyards at Richmond with a total of 27 ways, and the yards produced 35% of all cargo ships launched from the West Coast
Production schedule, Richmond
In addition to the warships listed above, Richmond completed over 661 ships (mostly Liberty Ships and Victory Ships, but also LSTs and C1 cargo ships) for the Maritime Commission.
Rail connections
Oil pipeline connections
Oakland
References
"Building the Navy's Bases in World War II" (1947; accessed 2012-6-30)
GlobalSecurity.org (accessed 2012-6-30)

---