| | |
| --- | --- |
| The Pacific War Online Encyclopedia | |
---
---
graduate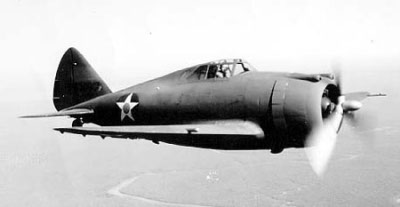 Republic P-43A-1 Lancer
Crew
1
Dimensions
36' by 28'6" by 14'
10.97m by 8.69m by 4.27

Wing area
223 square feet
20.7 square meters

Weight
5996-8480 lbs
2720-3850 kg

Maximum speed
356 mph at 20,000 feet
573 km/h at 6100 meters

Cruise speed
280 mph
451 km/h

Landing speed
78 mph
126 km/h

Climb rate
42 feet per second
12.8 meters per second

Service ceiling
36,000 feet
11,000 meters

Power plant
1 1200 hp (895 kW) Pratt & Whitney R-1830-57 Twin Wasp 14-cylinder two-row radial engine driving a three-bladed propeller

Armament
2 0.50 fixed nose machine guns
2 0.50 fixed wing machine guns

External stores
1 200lb (91kg) bomb, 6 20 lb (9kg) bombs, or a drop tank
Range
650 miles (1046 km) with a 200 lb (91 kg) bomb
1460 miles (2333 km) with drop tank
Fuel
218 gallons
825 liters

Production
54 P-43, 80 P-43A, and 125 P-43A-1 from 5/41 at Republic Aviation Corporation, Farmingdale, NY
Variants

The P-43 used an R-1830-35 engine, was armed with 0.30 machine guns in the wings, and had no provisions for bombs.

The P-43A used a R-1830-49 engine.

The P-43B through P-43E were photoreconnaissance conversions.

The P-43 was a development of the P-35 and the ancestor of the P-47 Thunderbolt. It never saw combat, since it was judged to have inadequate performance, and production was halted in favor of the P-47, The few production P-43 were relegated to air defense along the West Coast. Some 51 were delivered to China, were they suffered from problems with the self-sealing fuel tanks and turbochargers.

About 150 were converted to P-43B photoreconnaissance planes in 1942.
Roughly a quarter of P-43 pilots were assigned to the West Coast.
References
National Museum of the USAF (accessed 2009-10-12)

---