| | |
| --- | --- |
| The Pacific War Online Encyclopedia | |
---
---
graduate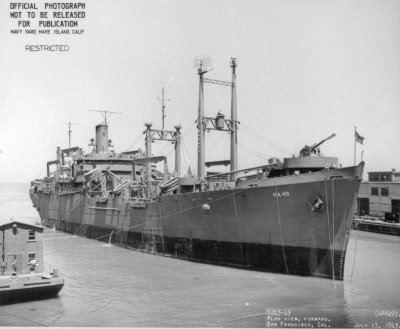 Mare Island #5243-43. Via NavSource.Org


Tonnage
13,910 tons fully loaded

Dimensions
459'3" by 63' by 24'
140m by 19.2m by 7.3m

Maximum speed
17 knots
Complement
511 crew
1563 passengers

Armament

2 5"/38 dual purpose guns
2x4 1.1" AA guns
12 20mm Oerlikon AA guns
Machinery

1-shaft General Electric geared turbine (6000 shp)
2 Foster-Wheeler D-type boilers
Bunkerage

1240 tons fuel oil
29,274 gallons landing craft fuel

Range

12,000 nautical miles (22,000 km) at 15.5 knots

Dry cargo
2700 tons
150,000 cubic feet (4200 cubic meters)

Modifications

Light antiaircraft eventually upgraded to 4x2 40mm Bofors AA guns and 12x2 20mm guns.


The Ormsbys werew Maritime Commission standard C2 cargo ships converted to attack transports (and given standard designation C2-S-B1.) Each was equipped with with three pairs of Welin davits for 26 LCVPs and two LCMs. None were lost in the Pacifiic.

References
NavSource.Org (accessed 2009-2-9)


---