| | |
| --- | --- |
| The Pacific War Online Encyclopedia | |
---
---
graduate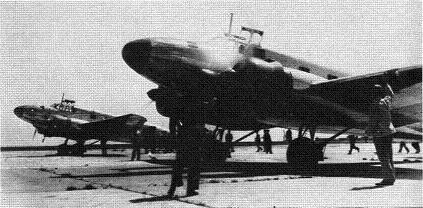 U.S. Navy. Via Francillon (1979)
Mitsubishi Ki-57-II "Topsy"
Crew

4

Passengers

11

Dimensions

74'2" by 52'10" by 16'0"
22.6m by 16.1m by 4.88m


Weight

12,313-20,106 lbs
5585-9120 kg

Speed

292 mph at 19,030 feet
470 km/h at 5800 meters


Cruising speed


199 mph at 9840 feet
320 km/h at 3000 meters


Climb rate

17 feet per second
5.2 meters per second


Ceiling

26,250 feet
8000 meters


Wing area

754 square feet
70 square meters


Two 1080 hp (805 kW) Type 100 (Mitsubishi Ha-102) 14-cylinder radial engines driving constant-speed three-blade metal propellers.

Armament

None

External stores

None

Range

932 miles (1500 km) normal
1865 miles (3000 km) maximum


A total of 507 aircraft (101 Ki-57-Ia and 406 Ki-57-II) between July 1940 and January 1945

Variants

The Ki-57-I was powered by less powerful Type 97 (Nakajima Ha-5 KAI) engines and could reach only 267 mph at 11,155 feet, but it had a slightly better climb rate.

The Mitsubishi Ki-57 "Topsy" was the standard transport aircraft of the Japanese Army. It was a 1939 civilian derivative of the Sally produced for Japan Air Lines (Nihon Koku K.K.) whose production was redirected back to military use.

The transport retained the wings, cockpit and tail of "Sally" but had a redesigned fuselage with two rows of single seats accomodating 11 passengers. The wings were also lowered. The prototype flew in Auguest 1940 and production commenced by the end of that year. It was known as the MC-20-I in civilian service and a few were acquired by the Navy as the L4M1.

"Topsy" was used to drop paratroops in the Palembang area on 14 February 1942, but most of its operations were much less spectacular. A very small number continued to operate until October 1945, two months after the surrender, under strict Allied control.

References
---