| | |
| --- | --- |
| The Pacific War Online Encyclopedia | |
---
---
graduate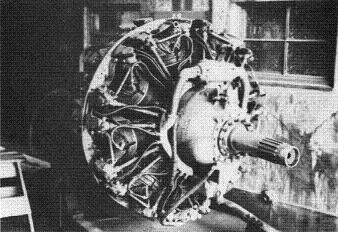 U.S. Navy. Via Francillon (1979).
The Nakajima Homare ("Honor") was an air-cooled 18-cylinder double-row radial engine. It used the same size cylinders as the Sakae (bore of 130mm and a stroke of 150mm.) Though somewhat mechanically unreliable, later models became increasingly important towards the end of the war. The engine was notable for having a relatively small diameter, which reduced drag.
Model

Horsepower

Wattage

Notes

11

1900 hp

1417 kW

Also known as the HA45 and the [Ha-45] 11.
Notorious for its lack of mechanical reliability.

12

1,825 hp (takeoff)
1,670 hp (7900 feet)
1,560 hp (21,500 feet)

1361 kW(takeoff)
1245 kW (2,400m)
1163 kW (6,550m)
Also known as the NK9C and the [Ha-45] 12.
21

1990 hp (takeoff)
1870 hp (6560 feet)
1625 hp (20,000 feet)

1484 kW (takeoff)
1394 kW (2000m)
1212 kW (6100m)

Also known as the NK9H and the [Ha-45] 21. Known as Ha-45 in Army service.

This engine powered the B7A "Grace", the C6N "Myrt", the Ki-84 "Frank", the N1K1 "George", and the P1Y "Frances".

References
Goodwin and Starkings (2017)
Gunston (2006)
Peattie (2001)

The Pacific War Online Encyclopedia © 2006-2009, 2019 by Kent G. Budge. Index
---