| | |
| --- | --- |
| The Pacific War Online Encyclopedia | |
---
---
graduate
Fu Tso-yi (1895-1974)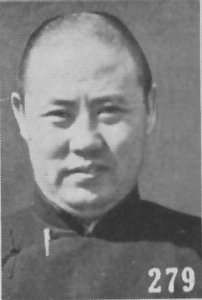 Fu Tso-yi (Fu Zuoyi) began his military career in the warlord forces of Yen Hsi-shan in Shansi province and, though he was regarded as having distinguished himself during Chiang's Northern Expedition, he later joined a failed coup against Chiang in 1929. During the 1930s he became close to Chang Hsueh-liang, the "Young Marshall" of Manchuria, and rose to the governorship of Suiyuan province. He was widely admired for his defense of the province against a Japanese expedition in 1936, but not universally admired: Dorn (1974) scorned him as a typical peasant warlord.

Fu commanded 7 Army Group when war broke out in the Pacific War, and eventually rose to command of 12 War Area (Suiyuan and Chahar).
Postwar Fu became disillusioned with Chiang and secretly arranged the surrender of the Peiping garrison on 31 January 1949. He was subsequently rewarded with high postings in the Chinese Communist government.

Service record

| | | |
| --- | --- | --- |
| 1895 | | Born |
| 1928 | Major general | Commander, Tientsin Garrison Command |
| 1929 | Lieutenant general | Commander, 10 Army |
| 1930 | | Commander, 35 Army |
| 1931 | | Chairman, Suiyuan Province |
| 1933 | | Commander, 7 Army Group |
| 1939 | | Commander, 7 Army Group / Deputy Commander, 8 War Area |
| 1945 | General | Commander, 12 War Area |
| 1945 | | Director, Kalgan Pacification Headquarters |
| 1946 | | Chairman, Chahar Province |
| 1947 | | Commander, General Headquarters for Bandit Supression, North China |
| 1949 | | Defects to the Chinese Communists |
| 1974 | | Dies |
References
Generals.dk (accessed 2008-5-5)
Wilson (1999; accessed 2012-11-17)

---