| | |
| --- | --- |
| The Pacific War Online Encyclopedia | |
---
---
graduate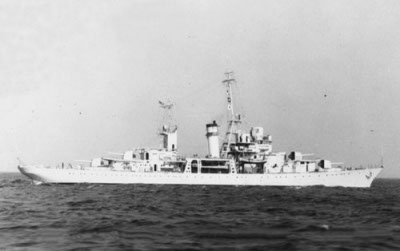 U.S. Navy. Via USSEriePG50.org

Tonnage
2000 tons standard displacement

Dimensions
328'6" by 41'3" by 14'10"
100.13m by y12.57m by 4.52m

Maximum speed
20 knots
Complement

236

Aircraft

1 seaplane

Armament
4 6"/47 guns
2x4 1.1"/75 AA guns

Machinery

2-shaft Parsons geared turbine (6200 shp)
2 Babcock & Wilcox boilers

Protection

1.25" (32mm) deck (machinery)
1" (25mm) deck (magazines)

Bunkerage

489 tons

Range

8000 nautical miles (6000 km) at 12 knots

Sensors

QC sonar
Mark 3 radar

Modifications

At some point a 3" (76mm) belt was fitted.
1942: 6x1 20mm Oerlikon AA guns were shipped and two depth charge tracks added.

The Eries were gunboats built in 1936 in Navy yards for the purpose of "showing the flag" at distant stations in peacetime ("peace cruisers") and for escort or antiaircraft duty in wartime. They were a tight design meant to exploit a loophole in the naval disarmament treaties, which exempted unarmored gunboats of 2000 tons or less, speed of 20 knots or less, and armament under 6.1" from restrictions. They were rather odd ducks, with the armament of a small light cruiser and the antisubmarine gear of a destroyer. They were designed to be fitted with a 3" (76mm) armor belt on commencement of hostilities, which apparently took place early in the war. However, their speed was much too slow for most of the roles envisioned for them.

References
GlobalSecurity.org (accessed 2009-11-28)
Gogin (2010; accessed 2012-12-21)

Navsource.org (accessed 2008-1-21)
USSEriePG50.org (accessed 2009-11-28)
The Pacific War Online Encyclopedia © 2008, 2009, 2012, 2014 by Kent G. Budge. Index
---