| | |
| --- | --- |
| The Pacific War Online Encyclopedia | |
---
---
graduate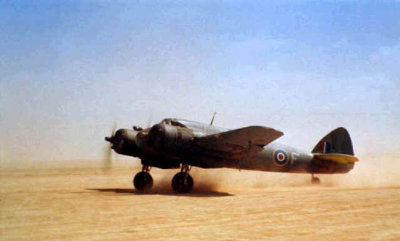 Bristol Type 156 Beaufighter VI
Crew
2
Dimensions
57'10" by 41'8" by 15'10"
17.63m by 12.70m by 4.83m

Weight
14,600-21,600 lbs
6620-9800 kg

Speed
333 mph at 15,600 feet
536 km/h at 4800 m

Climb rate
31 fps
9.4 m/s

Ceiling
26,500 feet
8080 m

Power plant
Two 1670 hp (1245 kW) Bristol Hercules XVI 14-cylinder sleeve-valve radials driving three-bladed propellers
Armament
4 20mm Hispano cannon fixed in underside of forward fuselage
One 0.303 Vickers K machine gun aimed by navigator
Six 0.303 Browning machine guns, two fixed in left wing and four in right.
External stores
One 1600 lb (728kg) torpedo on centerline or two 1000 lb (454kg) bombs.
Wing racks for eight rocket projectiles could replace the wing machine guns.
Range
1540 miles
2500 km

Fuel

550 gallons
2082 liters

Production
A total of 5564 Beaufighters were build in England and 364 in Australia.
English production was 1851 Beaufighter VI, 2205 X and 163 XIC.
The Australian production was 364 Beaufighter 21.
Variants

Night fighter versions carried the AI Mk IV radar.


The Beaufighter X was armed with both rockets and wing machine guns.

The Beaufighter 21 replaced the wing 0.303s with 0.50 machine guns and had a Sperry autopilot, but no torpedo capability.
The Beaufighter was the result of an attempt to put a heavily armed long-range fighter into production using existing jigs as much as possible. Though not successful in the day fighter role, the Beaufighter was used in the Southwest Pacific with much success for low-level attacks. It was also modified for night fighter operations, at which it excelled, due to its heavy armament and an optically flat windshield that gave the pilot a wonderful undistorted view ahead of his aircraft.

The design dated back to 1939, when aircraft designer Leslie Frise and Hercules engine designer Fedden discussed the idea of a long-range cannon-armed escort fighter based on the the Blenheim and Beafort designs. They proposed a twin-engined two-seater fighter with massive armament, and by using existing Beaufort jigs they were able to produce a prorotype in just six months. The aircraft was very tough and unusually maneuverable for its size and proved capable of extensive further development. Although early models lacked speed, they were badly needed as night fighters, where speed was judged less important.

The Japanese nicknamed the Beaufighter the "Whispering Death" because its Hercules sleeve-valve radial engine was extremely quiet. It was one of a handful of aircraft types produced by the nascent Australian aircraft industry during the war, although aircraft produced in England also saw service in the Far East and southwest Pacific.
References
---